We'll talk about sneakers once again here on our site after our collections of Italian sneakers here and French sneakers here.
You already know what sneakers are: comfortable shoes available in thousands of designs and colors from various brands all over the world that you can wear with different types of outfits.
Since each brand has unique traits, we create these brand selections from time to time to give you more clothing and footwear options.
Today we'll focus on 11 sneaker brands from Europe and look at their history, characteristics, and products.
Contents:
1. Puma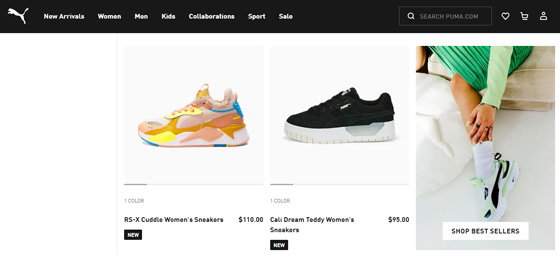 Puma official website
Puma was founded in 1948 in Herzogenaurach, Germany, and today is an important reference point for the production of sportswear and accessories. Since the first years of its foundation, the brand has always been careful to study solutions that could satisfy its customers.
Puma sneakers are popular because they stand out for their comfort, but also because they allow the foot to breathe and fit perfectly. In addition, there are many different models and each one is versatile because it can be worn on different occasions and can be combined with different outfits.
An example is the Slipstream Women's Sneaker which is designed to ensure maximum comfort throughout the day, it comes in neutral and bright colors and is very durable.
You might also like: 8 German Boot Brands For Your Casual Outfits
2. Relance

Relance French Made running sneakers
Relance is an interesting French brand as it's the newest on this list. It started around 2021 with a Kickstarter campaign to obtain some funding to launch and grow the company.
Their first model is the RL-01 running shoe which at the moment is available in four colors, white, black, red, and blue. It comes with a modern and minimal design and can also be worn casually every day in the city.
The RL-01 features a durable mesh upper, an expanded PU sole for cushioning and lightness, and a silicone insole for optimal comfort during running.
Another strong point of this brand is that its products are entirely made in France, from the design created in Paris to the manufacturing that happens in Cholet. This is a characteristic that we think customers will appreciate as the brand grows.
Prices are in line with many other high-quality sneakers and running shoe brands, around 120$ for a pair.
3. Hoka One One

Hoka One One official website
Hoka One One was born in 2009, in Annecy, France, and today produces sneakers and running shoes, but also outdoor clothing and accessories, for both women and men. The company philosophy is based on wanting to create footwear and products capable of encouraging anyone to participate in sports.
It is also very important that from the beginning, the producers have always wanted to create something that was not only innovative but also revolutionary.
Initially, they wanted to create shoes to make runners run faster, but they focused on other details as well. For example, they wanted to include any useful element to improve comfort, safety, and protection from adverse weather.
The sneakers of this company are available in many different designs that you can choose from with some being very colorful, such as the Clifton 8 women's shoes.
4. Superga

Superga official website
The Superga company was founded in 1911 in Turin, Italy, and is famous for the production of sneakers and accessories. In the early years of its foundation, it made rubber products, such as toys made from this material and air chambers for bicycles.
Later, the brand decided to use a particular material for the soles, vulcanized rubber, to create a new model of shoes which they called "Superga", from which the company got its current name.
Today Superga focuses on creating comfortable shoes that can be worn for several hours during the day. In addition, they are all breathable and also able to withstand wear for a long time.
As an example, we have picked the 2482 BANDANA shoe, very comfortable and perfect for different outfits.
Don't miss: 10 Italian Shoes and Boots Brands: Our Favorites
5. Hogan

Hogan official website
Hogan is a famous brand for the production of shoes for people of all ages and was founded by the Della Valle family in Italy, in 1986. A peculiarity of the brand is that at the beginning its productions were inspired by the world of cricket.
Today the shoes of this company are recognized for their characteristic design, even if the manufacturers always make many different models, to be able to satisfy every customer. Hogan shoes are a perfect mix of comfort and elegance.
An example of a sneaker from this brand is the Hogan Women's Rebel shoe.
6. Adidas

Adidas official website – women's sneakers
Adidas today is a brand known all over the world for the production of sportswear and also for accessories. Its designs are intended for men, women, and children. The brand was founded in Germany in 1949 by Adolf Dassler, and made mainly sports shoes.
One of the main characteristics of Adidas is its focus on durability and on the protection of the wearer so that he or she can perform at the highest level.
An example of the brand's sneakers is the Ozelia shoe, very comfortable, but also very resistant.
Read also: Adidas Stan Smith Alternatives: 9 Sneaker Brands You'll Love
7. Diadora

Diadora official website
Diadora makes sports shoes and clothing and today is present in different parts of the world. As for its history, it was founded in 1948 by Marcello Danieli, in Caerano di San Marco, Italy.
Initially, the production focused only on mountain boots, but over the years it expanded to include a wide range of sportswear. In addition, the brand is very attentive to respect the environment and tries to opt for eco-sustainable solutions.
One of the purposes of Diadora is to push people who wear its shoes or clothes to overcome their limits.
A sneaker design that perfectly represents the characteristics of the company is the MAGIC BASKET LOW ICONA LEATHER.
8. Le Coq Sportif

Le Coq Sportif official website
Le Coq Sportif produces outwear and footwear. It is a company born in France in 1882 thanks to Émile Camuset, but the current brand was only used in 1948.
About forty years later the brand was bought by Adidas and in 2005 it was bought by the swiss company Airesis SA. The logo is very interesting because it represents a rooster.
A characteristic element of the company is the desire to stand out by always creating new designs, but without forgetting tradition. A sneaker that we have picked as an example from this brand is the LCS R850.
9. Aigle

Aigle official website
Aigle is a French brand that was founded in 1853 by Hiram Hutchinson and its sneaker designs are really beautiful. Along with shoes, it also produces accessories and clothing.
A feature that allows the company to stand out is that although all its models are very elegant, they are also known for their simplicity. In addition, the materials are selected to always create a high-quality product.
Thanks to the unique design, Aigle shoes are also comfortable to wear. A design that we've selected as an example is this Vegan sneaker.
10. On Running

On Running official website
On Running makes sportswear and sneakers. It is a Swiss brand that was founded in 2010 by Olivier Bernhard. David Allemann and Caspar Coppetti also collaborated on the company development.
An original feature, which allows the brand to be different from many others, is its cushioning technologies of the shoes, perfect for guaranteeing ample freedom of movement, and a feeling of lightness and great traction.
These results were also achieved thanks to the particular company philosophy, which wants to produce shoes capable of making the customer feel as if she was "running on clouds".
An example of these features is Cloudnova. It is rich in details, comfortable, durable, but at the same time very light.
11. Salomon

Salomon official website
Salomon was founded in Annecy, France, in 1947. It's a brand that creates everything you need for your outdoor and mountain adventures, be it hiking, trail running, skiing, etc.
Thanks to its clothing, accessories, and shoes, you're sure to remain protected while walking or running for hours out in nature. Salomon also focuses on respecting the environment while offering durable products.
For example, a shoe that represents all the characteristics of the brand is the Salomon XT-6.